Keratin Treatments - Goldwell Kerasilk Keratin Treatment
Hair Smooth Like Silk For Up To 5 Months
FROM FRUSTRATING TO FABULOUS HAIR. DISCOVER THE ULTIMATE TRANSFORMATION. KERASILK KERATIN TREATMENT IS THE FIRST CUSTOMIZABLE LONG-LASTING SMOOTHING SERVICE FOR HAIR LIKE SILK FOR UP TO 5 MONTHS.
*

MAKES UNRULY, FRIZZY HAIR MANAGEABLE
*

SOFTENS CURLS AND SMOOTHS FRIZZ
*

REDUCES YOUR DAILY STYLING TIME SIGNIFICANTLY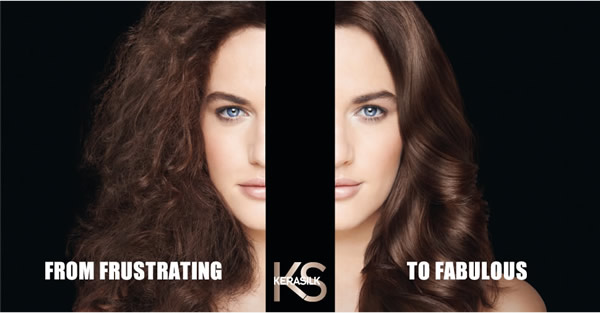 Goldwell Kerasilk Keratin Treatment is the first customisable, long-lasting keratin treatment from Goldwell, leaving hair silky smooth for up to five months.
Research by Goldwell discovered that half of all women describe themselves as having curly, frizzy or unmanageable hair that they can't get under control, no matter how much time, effort, or product they use.
The new Goldwell Kerasilk Keratin Treatment is a two-component system, meaning that it can be customised to suit individual client needs according to their existing hair type and texture and desired finish.
Formulated with smoothing glyoxylic acid and additional keratin and silk proteins, the treatment penetrates deep into the hair to create new keratin bonds and stabilise the new hair shape for up to five months -- allowing salons to build a new service and satisfy both new and existing clients.
Download Goldwell Keratin Safety Statement

Download Goldwell Kerasilk Consumer_FAQ
You will need Adobe Acrobat Reader to view this documentation.
Prices starting at $150.00 !!!
Actual price will be determined after consultation.
One of our Goldwell certified stylists will set a final price depending on length and density of the hair being treated.